ADI Trinamic's new TMC5240 is a high-performance stepper motor driver IC with an integrated motion controller and serial communication interfaces (SPI, UART) as well as extensive diagnostic functions.
The TMC5240 combines a motion controller with 8-point ramps, a 256µstep indexer and two fully integrated 36V, 2.1A rms H-bridges and lossless integrated current sensing (ICS) with no shunt resistors.
TMC5240 drivers have extensive diagnostic and protection features such as short circuit/overcurrent protection, thermal shutdown and undervoltage lockout.
During thermal shutdown and undervoltage lockout events, the driver is disabled. The position of the motor can be monitored via an incremental encoder input.
The TMC5240 can read and process reference and limit switches directly.
A new feature is the option of using the sensorless StallGuard™ load detection and the load-dependent CoolStep™ current adjustment even in whisper-quiet StealthChop™ mode.
The patented SpreadCycle™- chopper mode is still available for maximum torque.
The ADI Trinamic TMC5240 Stepper Motor Driver ICs provide functions for measuring driver temperature, estimating motor temperature and reading an external analog input.
The drivers are available in 5 x 5mm TQFN32 or 9.7 x 4.4mm TSSOP38 packages.
The TMC5240-EVAL-KIT, the TMC5240-EVAL Board and the TMC5240-BOB are available for evaluation.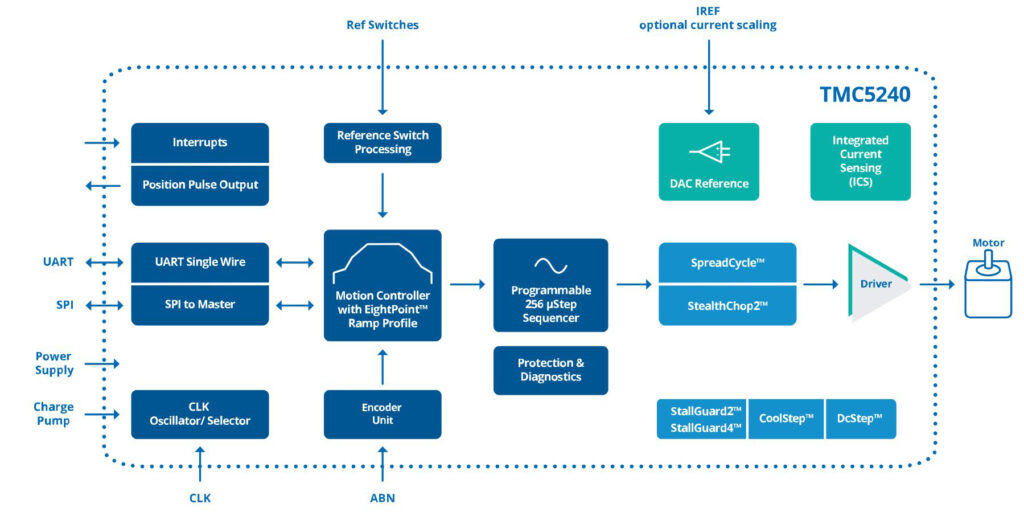 Download: TMC5240_datasheet.pdf
Contact
If you are interested in learning more about ADI Trinamic's new high-performance drivers, please contact:
Guido Gandolfo
Produkt Line Manager
Motion Control
+49 5424 2340-57
ggandolfo@mev-elektronik.com